The FLI is located at the southern part of Campus Beutenberg in Jena and can easily be recognized by the long white laboratory building stretching along the road. This is where you can find the reception. The LGSA coordination office can be found in building no 4.
ICE/RE connections Berlin - Munich with change in Leipzig or Erfurt to train station Jena Paradies. From there to FLI:
Tram 5 (or 35) (destination Ernst-Abbe-Platz) to Holzmarkt (1 stop); change to bus 10, 11 or 12 until Beutenberg-Campus.
Tram 2, 3 (or 34) (destination Winzerla) until station Ringwiese; walk about 5 min. up Hermann-Löns-Straße.
RE/ICE connections Frankfurt - Dresden with change in Erfurt or Weimar to train station Jena West. From there to FLI:
Walk about 100 meters until Magdelstieg.
Take bus 10, 11 or 12 (destination Burgau/ Göschwitz/ Ammerbach) until Beutenberg-Campus.
A4/E40 Dresden-Frankfurt/Main-Brussels, Exit: Jena-Göschwitz or Jena-Zentrum
A9/E49/E51 Berlin-Nuremberg, Exit: Eisenberg; B7 destination Jena
Hermsdorfer Kreuz A4/A9: follow A4 destination Frankfurt/Main for 20 km (exit: Jena-Zentrum or Jena-Göschwitz)
B88 Naumburg-Jena-Rudolstadt, destination Jena
B7 Kassel-Eisenach-Erfurt-Jena-Gera, destination Jena
International Airports:
International Airport Leipzig/Halle: 90 km or train connection with change in Leipzig - approx. 1.5 h
International Airport Frankfurt: 300 km or train connection with change in Erfurt or Weimar - approx. 3.5 h
Berlin Schönefeld Airport: 265 km or train connection with change in Berlin and Leipzig - approx. 3 h
Berlin Tegel Airport: 260 km or train connection with change in Berlin and Leipzig - approx. 3 h
Munich Airport: 360 km or train connection with change in Munich and Erfurt - approx. 5 h
Closest local Airports:
Airport Weimar-Erfurt: 50 km
Commercial Airport Jena-Schöngleina: 15 km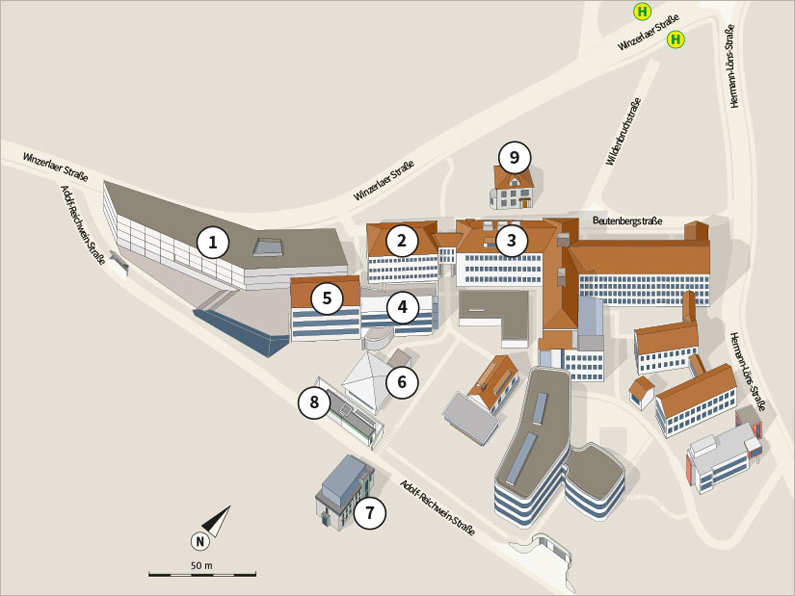 1
2
3
4
5
6
7
8
9
| | | | |
| --- | --- | --- | --- |
| 1 | Laboratory building | | Reception, seminar rooms "Nucleus", "Golgi", "Endoplasmic Reticulum", "Telomere", parking garage |
| 2 | Laboratory building | | |
| 3 | Laboratory building | | Lecture hall, seminar room "Peroxisome" |
| 4 | Administrative building | | Seminar rooms "Mitochondrium" and "Centrosome" |
| 5 | Laboratory building | | Seminar rooms "Lysosome" and "Genome" |
| 6 | Laboratory building | | |
| 7 | Laboratory building | | |
| 8 | Laboratory building | | |
| 9 | Administrative building "Villa" | | Seminar room "Ribosome" |
Leibniz Institute on Aging -
Fritz Lipmann Institute
LGSA
Beutenbergstraße 11
07745 Jena, Germany
LGSA Coordination Office
+49 3641 65-6340
claudia.mueller@leibniz-fli.de
Reception FLI Building 1
+49 3641 65-6855